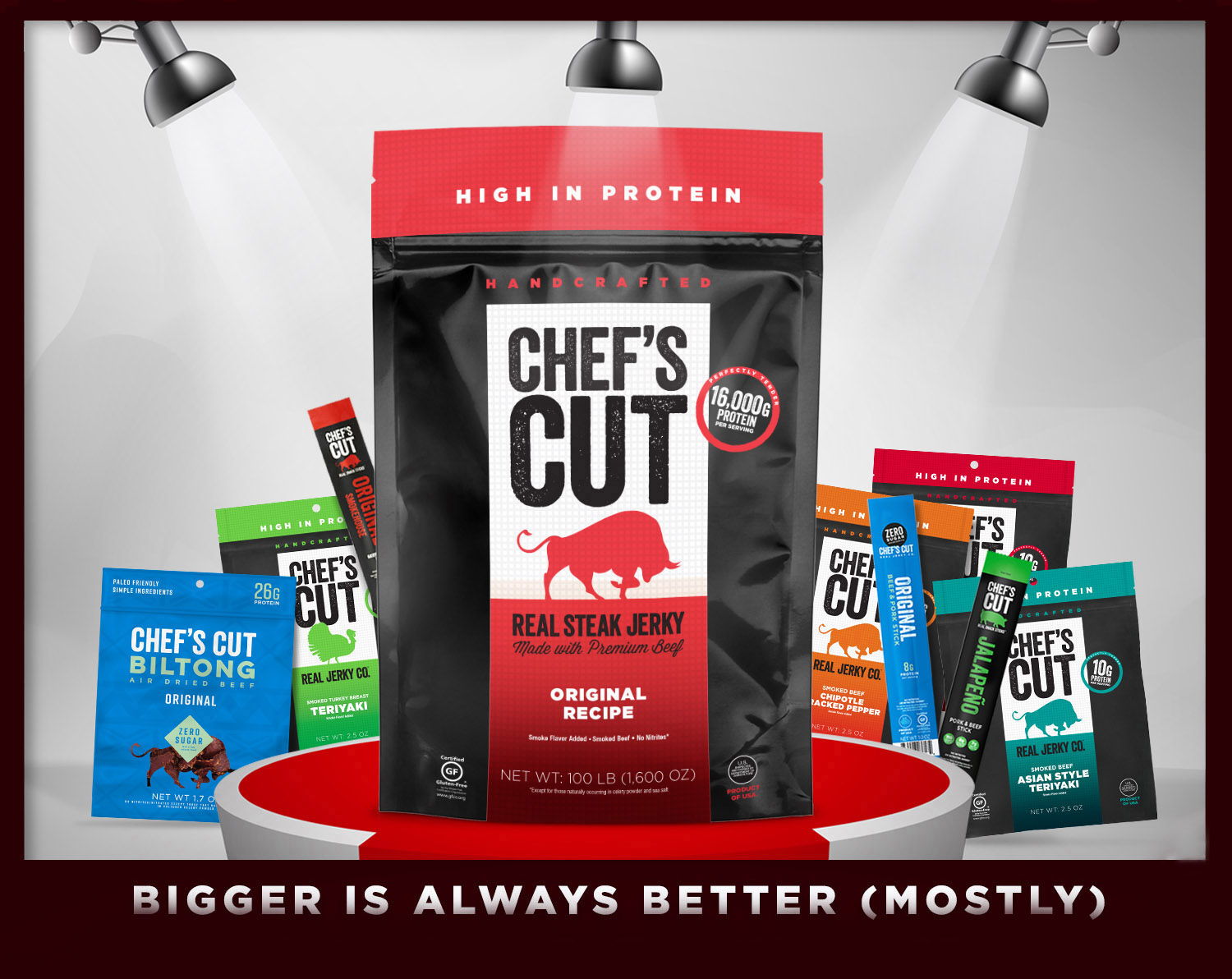 ---
With stocking up as important as ever, Chef's Cut is excited to launch our newest product, a 100-Pound bag of our famous, tender, Original Recipe jerky. Forget the days of buying a bag in the store each week or subscribing online, just buy the 100-Pounder instead! At 1600 Oz., it's more than 228x bigger than our current biggest bag (7 Oz.). For just $3,000, it's the biggest and best deal in jerky!
---
Pros and Cons of Our 100-Pound Bag of Jerky

PROS:
16,000 grams of protein per bag
Savings of over $800 compared to buying the same volume in our current bags
Great snack for your car (if your trunk is big enough)
If you only ate this, it would last you for 72 days (based on a 2,000-calorie diet)
CONS:
May have to take some shelving out of your pantry to make room for it
Not vegan-friendly
If you're on the fence, just listen to what our customers have to say about it:
"My mailman threw his back out delivering it to me, but other than that, great snack!"
Michael H.
1 APR 2020, 12:21
"It's jarring when you see it. Bigger than both of my nieces combined!"
Rossie S.
1 Apr 2020, 14:42
"I wanted to redo our garage, but my wife wanted to use the $3,000 for the 100-Pounder. Well, happy wife, happy life. Only 97 pounds go to!"
Nick M.
1 Apr 2020, 12:21
If you love Chef's Cut, but maybe not THAT much, shop any of our regular-sized options in our store and have a Happy April Fool's Day!
Get 25% off your entire order using code APRIL25 so save now, and that's no joke!

---
---
Chef's Cut Instagram Feed